FOR HEALTHY SKIN, HAIR, NAILS, JOINTS, AND GUT
Enhance Your Beauty... Naturally
Reward yourself with the gift of wellness and longevity with Kaffa Skincare's ReNew5 skin rejuvenation and hydration drink mix.  
We believe the foundation of youth begins from the inside out. This delicious drink is filled with 5 potent ingredients for beauty and overall wellness: Collagen + Resveratrol + Biotin + Vitamin C + Hyaluronic Acid and exotic roots. Together this unique combination of nutrients supports healthy skin, hair, nails, joints, and gut health. 
Powerful marine collagen peptides stimulate the growth of healthy collagen and elastin fibers. Resveratrol, a powerful antioxidant found in red grapes, hydrates and nourishes the skin. Biotin, Vitamin C and Hyaluronic Acid are key ingredients required by the body for optimal skin, hair and nail health.  
ReNew5 reduces the appearance of wrinkles, diminishes the signs of aging, and protects against future damage. This natural blend rehydrates, reinvigorates, and repairs the skin while boosting elasticity and enhancing suppleness for a glowing complexion.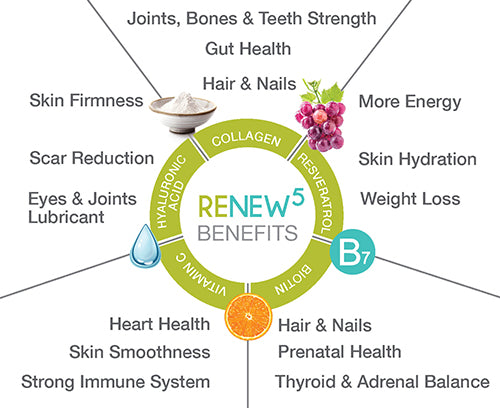 Benefits of ReNew5 Daily Drink
Skin Hydration Reducing aging lines
Nails and Hair Strength and Growth
Bone & Joint Mobility
Boosts The Metabolism
Heal a Leaky Gut
Thyroid and Hormone Balance
Supports Lean Muscle Gain
Performance and Recovery